UNITY Biotechnology Announces Exercise of Warrants for $4.38 Million in Gross Proceeds
November 10, 2023 at 8:00 AM EST
SOUTH SAN FRANCISCO, Calif., Nov. 10, 2023 (GLOBE NEWSWIRE) -- UNITY Biotechnology, Inc. ("UNITY" or the "Company") [Nasdaq: UBX], a biotechnology company developing therapeutics to slow, halt, or reverse diseases of aging, today announced the entry into a definitive agreement for the immediate exercise of certain outstanding warrants to purchase up to an aggregate of 2,143,000 shares of common stock, having an exercise price of $8.50 per share, issued by UNITY on August 22, 2022, at a reduced exercise price of $2.045 per share. The shares of common stock issuable upon exercise of the warrants are registered pursuant to an effective registration statement on Form S-3 (File No. 333-263574). The gross proceeds to UNITY from the exercise of the warrants are expected to be approximately $4.38 million, prior to deducting placement agent fees and offering expenses. The closing of the offering is expected to occur on or about November 14, 2023, subject to satisfaction of customary closing conditions. The Company believes that together with these proceeds, the Company's current cash, cash equivalents and marketable securities are sufficient to fund operations into the second quarter of 2025.

H.C. Wainwright & Co. is acting as the exclusive placement agent for the offering.
In consideration for the immediate exercise of the warrants for cash, UNITY will issue new unregistered warrants to purchase up to 2,143,000 shares of common stock. The new warrants will have an exercise price of $1.92 per share, will be exercisable immediately upon issuance and have a term equal to five years from the date of issuance.
UNITY intends to use the net proceeds of this offering for working capital, operating expenses to include clinical trial progression, and general corporate purposes.
The new warrants described above were offered in a private placement pursuant to an applicable exemption from the registration requirements of the Securities Act of 1933, as amended (the "1933 Act"), and, along with the shares of common stock issuable upon exercise, have not been registered under the 1933 Act, and may not be offered or sold in the United States absent registration with the Securities and Exchange Commission ("SEC") or an applicable exemption from such registration requirements. UNITY has agreed to file a registration statement with the SEC covering the resale of the shares of common stock issuable upon exercise of the new warrants.
This press release does not constitute an offer to sell or a solicitation of an offer to buy the securities in this offering, nor shall there be any sale of these securities in any state or other jurisdiction in which such offer, solicitation or sale would be unlawful prior to the registration or qualification under the securities laws of any such state or other jurisdiction.
About UNITY
UNITY is developing a new class of therapeutics to slow, halt, or reverse diseases of aging. UNITY's current focus is on creating medicines to selectively eliminate or modulate senescent cells and thereby provide transformative benefit in age-related ophthalmologic and neurologic diseases. More information is available at www.unitybiotechnology.com or follow us on Twitter and LinkedIn.
Forward-Looking Statements
This press release contains "forward-looking statements" within the meaning of Section 27A of the 1933 Act and Section 21E of the Securities Exchange Act of 1934, as amended, that involve a number of risks and uncertainties. For those statements, we claim the protection of the safe harbor for forward-looking statements contained in the Private Securities Litigation Reform Act of 1995. Such statements include, but are not limited to, statements related to the timing and completion of the offering, the satisfaction of customary closing conditions related to the offering and the intended use of proceeds therefrom. These statements involve substantial known and unknown risks, uncertainties, and other factors that may cause our actual results, levels of activity, performance, or achievements to be materially different from the information expressed or implied by these forward-looking statements, including risks relating to the uncertainties inherent in the drug development process, and risks relating to UNITY's understanding of senescence biology. We may not actually achieve the plans, intentions, or expectations disclosed in our forward-looking statements, and you should not place undue reliance on our forward-looking statements. Actual results or events could differ materially from the plans, intentions and expectations disclosed in the forward-looking statements we make. The forward-looking statements in this press release represent our views as of the date of this press release. We anticipate that subsequent events and developments will cause our views to change. However, while we may elect to update these forward-looking statements at some point in the future, we have no current intention of doing so except to the extent required by applicable law. You should, therefore, not rely on these forward-looking statements as representing our views as of any date subsequent to the date of this press release. For a further description of the risks and uncertainties that could cause actual results to differ from those expressed in these forward-looking statements, as well as risks relating to the business of the Company in general, see UNITY's Annual Report on Form 10-K, Quarterly Reports on Form 10-Q, as well as other documents that may be filed by UNITY from time to time with the SEC.
Media Contact
Evoke Canale
Katherine Smith
Katherine.Smith@evokegroup.com
Investor Contact
LifeSci Advisors, LLC
Joyce Allaire
jallaire@lifesciadvisors.com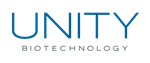 Source: Unity Biotechnology, Inc.